Here are just a few of the Chemicals In Your Beauty/ Skincare Products to Avoid:
Imidazolidinyl Urea
Diazolidinyl Urea
I am not affiliated with huffingtonpost in any way. The above framed card is intended for the reader's reference. 
The concern: According to the EU, imidazolidinyl urea is one of several "formaldehyde releasers", which have been shown to induce dermatitis from short-term use. Found in: body wash, eye liner, eye shadow, eye cream, lotion, cleanser, face powder and moisturizer
The concern: Diazolidinyl urea is also a formaldehyde releaser and thus has been shown to potentially induce skin irritations. Found in: acne treatment, shampoo, conditioner, lubricant, moisturizer, hand cream, eye cream, makeup remover, body wash, cleanser, toner, face masks, eye liner, sunscreen, hair gel, exfoliants, scrubs, deodorant, powder, bronzer, foot cream, bath oils/salts/soaks, toner, blush, sunless tanning, foundation, body powder, eye makeup, hair dye, concealer, lipstick, shaving cream, hairspray, tanning oil, hand sanitizer, after shave, detangler, hair relaxers and mousse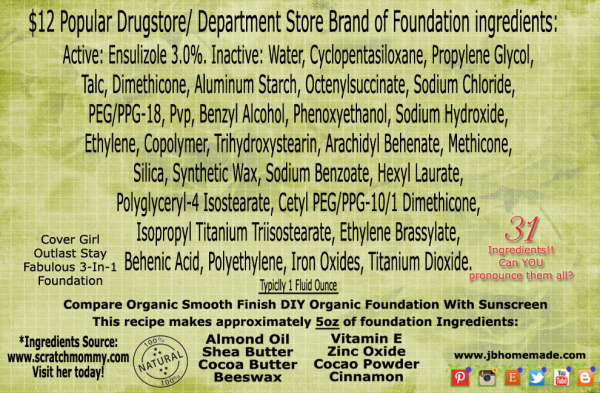 Talc
The concern: The main issue with talc is asbestos -- there is talc that contains asbestiform fibers and talc that does not. Case studies have shown an association between asbestiform fibers and the development of mesothelioma. However, the talc in makeup generally does not contain asbestiform fibers. Found in: soap, concealer, deodorant, blush, bronzer, eye shadow, lip liner, foundation, face powder and nail polish
BHA
The concern: BHA can increase sensitivity to the sun's damaging rays. According to the National Toxicology Program from the Department of Health and Human Services, BHA is "reasonably anticipated to be a carcinogen" but only when in high concentrations -- most makeup does not include enough to be dangerous.Found in: eye liner, nail polish, blush, mascara, eye shadow, lip gloss, concealer, moisturizer, diaper cream, moisturizer, acne treatment, conditioner, shave gel, lipstick, body oil, shaving cream, wax, hand cream, eye cream, body wash, cleanser, fragrances, scrubs, shampoo and hair dye
Stearalkonium chloride
The recipe she

(Ms. Scratch Mommy)

 uses which is how I learned how to make my own foundation can be found here:
The concern: Studies have shown this chemical to be "moderately toxic by ingestion", but it has not been proven dangerous at low concentrations in cosmetics. Found in: conditioner, hair dye, hand cream and hair gel
DMDM Hydantoin
The concern: DMDM hydantoin is also a formaldehyde releaser, which can cause dermatitis. According to one study, "An increase in the use of DMDM hydantoin in cosmetic products will also increase the risk of cosmetic dermatitis in consumers allergic to formaldehyde." Found in: shaving cream, eye cream, bath salts/oils/soaks, eye makeup, body wash, cleanser, moisturizer and shampoo
Isopropyl alcohol
The concern: Isopropyl alcohol is used in antifreeze, and it can be twice as toxic as ethanol. But the real dangers are in ingesting it directly, whereas its minimal presence in cosmetic products is less dangerous. It can also give products that alcoholic smell. Found in: nail polish, acne treatment, pore strips, hair dye, blush, conditioner
PEG
The concern: PEG, or polyethylene glycol, is often used as a laxative ingredient, as it increases the amount of water in the intestinal tract to stimulate bowel movement. But when used as a cosmetic ingredient at low concentrations, PEGs have not been conclusively deemed harmful. Found in: cleanser, concealer, eye cream, tooth whitening, face masks, foot cream and lip balm
Almond Oil (or unrefined, raw, organic carrier oil of your choice)
Shea Butter (organic, raw, unrefined shea butter)
Cocoa Butter (organic, raw, unrefined cocoa butter)
Beeswax 
Vitamin E  (make sure it's not from GMO sources)
Zinc Oxide (make sure it is uncoated, non-nano, and not micronized)
Cocao Powder (organic cocao (or cocoa) powder)
Cinnamon (organic cinnamon)

 

Does ANYONE ELSE see a MAJOR difference between the ingredients in CoverGirl and Laura Mercier and this all-natural foundation? Oh my gosh. And look how luscious and silky it turns out. 
Mineral oil
The concern: Mineral oil is produced from petroleum, so if it's not purified, one study explains, "Chronic exposure to poorly refined base oils has the potential to cause skin cancer." Ingesting too much mineral oil can also lead to diarrhea and nausea, according to the NIH. But the amounts found in makeup haven't been conclusively proven as dangerous. Found in: bubble bath, eye makeup remover, baby oil, concealer, lotion, diaper cream, lip gloss
Phthalates
The concern: Phthalates are found in lots of plastics and are also used as solvents. According to the CDC, "some types of phthalates have affected the reproductive system of laboratory animals," where they have endocrine-disrupting effects. However, according to the 2002 Cosmetic Ingredient Review panel, cosmetics expose humans to phthalates in much lower levels than would cause the adverse effects in animals. One study found phthalates to increase risk of diabetes. Found in: deodorant, fragrance, hair gel, mousse, hair spray, nail polish, hand and body lotion
Triclosan
The concern: The FDA states that "animal studies have shown that triclosan alters hormone regulation" and therefore it requested a test of triclosan's dermal toxicity, dermal carcinogenicity and phototoxicity. It is currently doing research and is still reviewing the ingredient. Found in: after shave, shaving cream, moisturizer, acne treatment, deodorant and toothpaste
Sodium Lauryl/Laureth Sulfate
The concern: Sodium lauryl sulfate has been shown to cause irritation and inflammation on the skin. Found in: makeup remover, shampoo, conditioner, cleanser, detangler and soap