The outstanding truth about
Sugaring the hairy, manly man
Male body hair is thick and springy with very deep roots.
It is sometimes difficult to epilate all the hair of a man successfully with the first wax application.
Sugaring adheres only to the hair, but not to the skin also.
Chemical hot and cold wax adheres to the skin too. The top layer of the skin is actually removed with the wax.
A second and even third application of waxing are taboo.
But with sugaring, it is possible without harming the skin. 
STOP SHAVING! TRY SUGARING!
If you think only metrosexuals, gay men, or triathletes would choose to be hairless, think again. Hairlessness among men is surging in popularity for all types of guys, from straight to ultra conservative to liberal! 
If you've been shaving your body parts including Chest, Legs, Back and hands with Razors – you absolutely have to give Sugaring a shot.
Your hair will not grow for at least a month and eventually, it will become more and thinner and more invisible. Men's skin is proven to be more sensitive than women's, so sugaring is definitely the way you want to go because it is so much less painful than waxing and you won't have the worries of ingrown hairs!
SUGARING VS SHAVING
Sugaring is far superior to shaving for several reasons. Sugaring removes hair from the root, so it can last for up to six weeks or more depending on how many times in a row you have been sugared and how often. 
The exact opposite would be shaving. Consider the aggravation and frequency. Some people have to shave every day. But who will help you? Unless you are a professional athlete, you probably won't be able to reach the middle of your back with just a razor, so people may start calling you Patchy the Clown. The angle to which you would have to move your arms might cause you to end up with nicks and cuts. 
He said "what are you doing? I thought you were using the sugar?"
I said "I am sweety, I'm just preparing your hairs and your skin. Don't worry. I know what I'm doing by now." :-D
I scooped out about a golf size amount of sugar from my glass jar I had so lovingly filled with the sweet mixture.
I gave him a kiss and said "don't be mad at me if it hurts you. I know you're a tough guy but this will be a first for you."
I then proceeded to rub the sweet mixture into his skin/hair with some slight pressure in the opposite direction of his hair growth (towards his should blades...hair growing towards spine, rub opposite so towards his should blades from his spine). He said "it feels like you're tugging my hairs but it doesn't hurt."
By then I was on the third pass over (rub 3 times in the opposite direction of hair growth). I had made my lip (by curling my fingers slightly at the tip of each pass through. I said "ok honey, ready". He said "all right, go ahead."
I proceeded to grab hold of the lip (area being sugared was about 5 inches by 2 inches) and quickly flicked three times towards his spine.
He didn't even flinch. No reaction. Turned his neck towards me and asked "That's it?" I said "Yep. How's it feel?" He said simply "Proceed my love". And with that I did so.
And continue to do so about once a month and am now doing his neck for him as well. (He may be a county boy but he likes a clean cut look.)
My old man (country boy that he is) used to get
his underarms waxed when he was in high school playing football because the gear bothered and chafed his underarms. So he fully remembers the torture I was talking about in my previous post (here) when getting waxed.
As I was nearing pound 21 of organic sugaring I had gone through learning the method of cooking this delicate ancient miracle, he asked me if I could sugar his back for him because we were in the heat of late spring and he works outside. The hairs on his neck and back were bothering him. 
I said "well sure honey but I am no expert at it yet." He said "..lol...baby I've felt your legs and they speak for themselves.
I know this stuff works and I trust you."
(can I hear it? aww :-P )
I proceeded to stare at his back and neck for a moment, studying the direction of his hair growth. Towards his spine.

OK.
I dusted him with cornstarch, rubbed gently to ensure that all moisture, if any was absorbed by the cornstarch all the while smoothing his hair towards his spine, somewhat brushing it if you will. They were quite long but too long.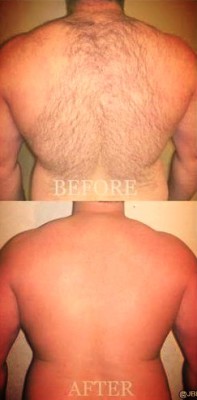 Title 4

Title 5

Title 6

Title 7

Title 8